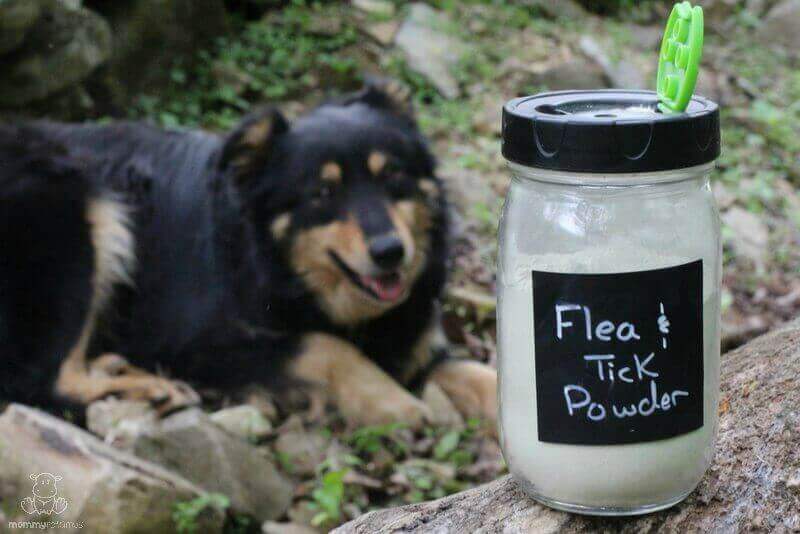 Part-time egg thief and full-time protector, our farm dog Duke is the best dog I've ever had. Okay, he's the only dog I've ever had, but he's loyal, patient my littles, and vigilant about keeping our animals safe. Because we live in a heavily wooded area, no one in my family goes outside to work or play without applying homemade tick repellent, including him.
But even though we apply a tick repellent to ourselves, it's important to apply flea and tick prevention for our dogs. Not only do we want to keep them safe and healthy; we also want to guard our children from exposure to fleas and ticks when they play and snuggle with any their adorable canines. Of course, the formula is a bit different because, well, he has four legs. 🙂
Can I use this powder on my cat?
Cats and essential oils don't really mix, but if you leave out the eo's this blend would be fine. However, it might be better to go with this pre-made powder that incorporates a higher concentration of whole herbs than my recipe calls for.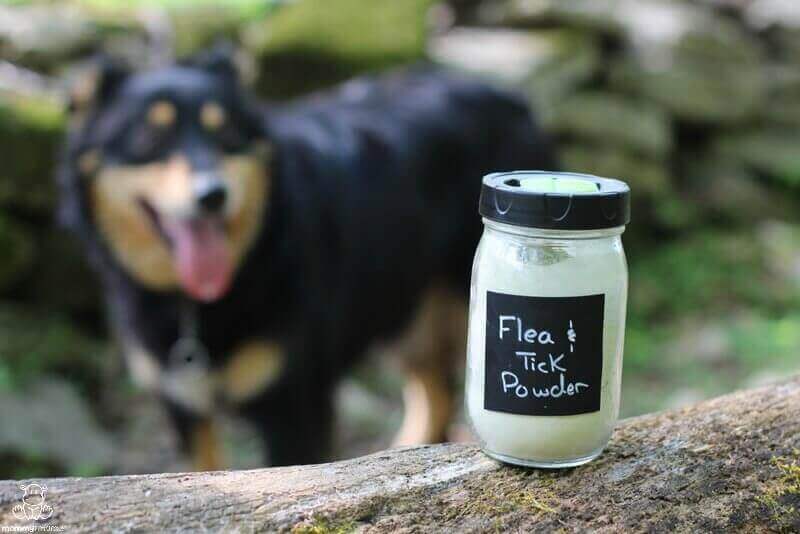 What essential oils are good for fleas and ticks on dogs?
Some essential oils are considered helpful for repelling both ticks and fleas, while others are considered helpful for just one or the other. In the list below I've designated which dog-safe essential oils are considered best for each so that you can choose the oils that are aligned with your goals. One quick note: Most of these oils are considered safe for children and can also be used to make homemade bug spray or tick repellent (link above). I mention specifically which ones are kid-safe in my recipes.
Sources for this list: Holistic Aromatherapy For Animals, Using Essential Oils Safely
and Animal Wellness Magazine article 1, article 2)

What's the purpose of the other ingredients?

Diatomaceous Earth – Made from a type of fossilized phytoplankton called diatoms, diatomaceous earth is used in a lot of DIY recipes – deodorant, tooth powder and scouring powder for example. Although it feels like fine baby powder to our skin, it's very hard and works well as a gentle abrasive. When used as a flea and tick powder, it attaches to the protective waxy outer coating of bugs/pests and absorbs or scrapes it away, causing them to dry out and die.

Safety note: Although food grade diatomaceous earth is safe for use with humans and pets, filter grade diatomaceous earth is not. That's because it has been heated in order to change it's structure from the harmless amorphous silica that makes up 98.99% of food grade DE to crystalline silica, which can be harmful if breathed in. (source) Always, always use food grade diatomaceous earth.

Neem Powder – You're probably already familiar with one of the darlings of Ayurvedic medicine – turmeric – which can be used to support the immune system and even whiten your teeth. Another revered plant in the Aurvedic tradition in the neem tree, which is sometimes called The Wonder Tree of India. It's leaves have long been used as a natural bug repellent, which is why they've been incorporated into this recipe.

Arrowroot Powder – In this recipe, arrowroot is used to dilute the other ingredients so that they are gentle enough for frequent topical use.

Don't Want To Make Your Own?

You can find a pre-made version that's similar to mine here. It doesn't contain essential oils, but you could add them if you'd like. The pre-made version contains a higher concentration of herbs so I would probably fewer drops of essential oil – maybe 15-20 drops per half cup.

Homemade Flea & Tick Powder For Dogs

The mixture below is a little less than a 2% dilution, which is considered safe for regular topical use. I like to rotate the oils I use every batch or so to avoid sensitization.

Ingredients

Essential oils to consider:

To Make

Add food grade diatomaceous earth, neem powder, arrowroot powder and essential oils to a jar. Stir slowly until the essential oils are well-combined.

To Use
You'll want to be outside. Using the shaker, shake a small amount of powder into the palm of your hand. Rake your fingers against the grain through your dog's fur, making sure to maintain contact with the skin as you rub your fingers through the fur. For most dogs, you'll be able to see where you've rubbed in the powder as some slight dusting will remain on the outer coat.

Repeat with additional powder shaken into the palm and raked into the fur until the back, torso, legs, tail, and neck have been covered. Be careful around the eyes and mouth because the powder can irritate the mucosa.
Between applications I also spritz our dogs outer coat with this tick repellent recipe as needed – the dilution is within the safe range for dogs and all the essential oils are considered dog-safe as well. (source)