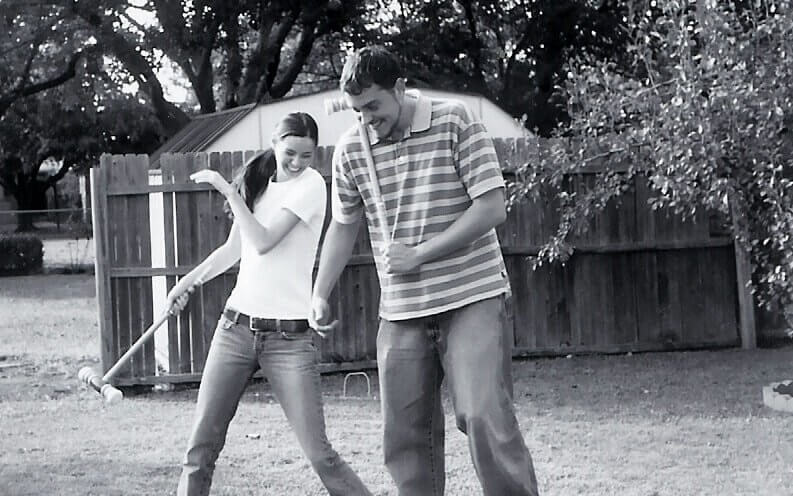 You know you're low on cash when your favorite place to rent movies is the public library. That was us.
As newlyweds, my husband and I made a game of stretching our entry level salaries in every way possible. We bought the cheapest foods we could get our hands on – thirty cent ramen noodle packets, canned tuna and mac & cheese in a box. We refinished furniture found at garage sales and thrift stores. Our dates consisted of playing croquet in our backyard (And yes, the fence behind us just keeled over one day. We fixed it after the photo was taken).
The True Cost Of Cheap Food
We thought we were being smart. But as I wrote in my post on how to eat healthy on a budget, we quickly discovered the true cost of cheap food. Soon after we said "I do" my health was wrecked, and we were told not to even try starting a family because I was too weak.
So we changed. With every pay increase, we bought better food. When we got raises no one could even tell, because our house, clothes and cars looked pretty much the same. Mr. Budget knew, though. He saw our grocery bill climbing like a sherpa with his pants on fire.
And it was worth it. With every mouthful, we brought ourselves closer to healing. We got that family that we dreamed of – though in our dreams we weren't constantly fishing credit cards out of nut butter jars – and we got each other back. (If you've ever been chronically ill, you know the toll it can take on relationships.)
Getting sick was the best worst thing that ever happened to me, because it woke me up and motivated me to prioritize my family's health.
It also inspired the mission behind Mommypotamus, which is to help you do the same for your family.
Unfortunately, you've probably noticed by now that the best available ingredients and products cost double or triple the price of what we grew up using as kids. If you've ever wished you could waive your magic wand and make real food and non-toxic products more affordable – maybe even LESS than conventional brands with dubious ingredients – read on.
I've shared some of my best tips for eating healthy on a budget here, but recently I came across something new, and it's this: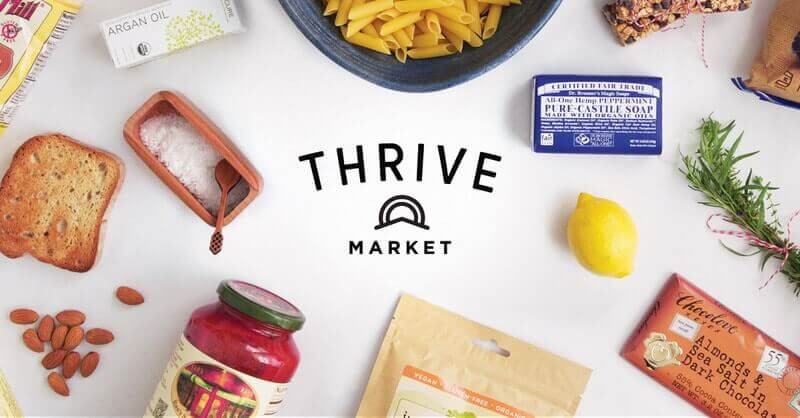 Thrive Market: Wholesome Food At Wholesale Prices
You guys, it's Whole Foods meets Costco, only you don't even have to leave your house. For less than $5 a month ($59.95 annually), you can shop 3,500 of the world's best-selling natural and organic products at 25-50% below retail prices.
Thrive Market delivers real food, supplements, personal care, beauty products and home goods from brands like Dr. Bronner's, Spectrum Naturals, Bob's Red Mill, Real Salt, and Navitas Naturals straight to your door at wholesale prices, and you get FREE shipping on orders over $49.
Thrive carries non-perishables, so they don't compete with local farmers. I still buy my meat and produce from farmers I know on a first-name basis, but I stock my pantry with items from Thrive.
Is This For Real?
Now, just because something is sold at health food stores doesn't mean it's actually healthy, so I was a bit skeptical about Thrive. But when I logged in for the first time, I discovered several of my favorite pantry staples for sale, plus items like pastured lard and potato chips fried in coconut oil.
Best of all, my order only came to $59.85 – on Amazon it would have cost $120.39!! (And I have Amazon Prime, so that's even with free shipping.) Eating healthy on a budget IS possible!
And just like that, my membership paid for itself in just one order.
Here's what I stocked up on:
Coconut Aminos
At Whole Foods, this item costs $6.69 – it's  $12.99 on Amazon. At Thrive Market, it's $4.45. That's a 33-66% savings.
Real Salt (26 oz.)
At Whole Foods, this item costs $7.69 – it's $8.72 on Amazon. At Thrive Market, it's $5.65. That's a 26-35% savings.
Bob's Red Mill Almond Flour (16 oz.)
At Whole Foods, this item costs $11.99 – it's $14.15 on Amazon. At Thrive Market, it's $8.45. That's a 29-40% savings.
Water Kefir Grains From Cultures For Health
My grains died last summer when our A/C died and my kitchen got overheated. They're sold on Cultures For Health's website for $16.99, but I ordered them through Thrive for $9.45. That's a 44% savings. (Note: To simplify the comparison of Amazon vs. Thrive I pretended that these grains can be purchased through Amazon with free shipping. However, in reality they have to be purchased through Cultures For Health and shipping is not included. So actually, the Amazon figure should be a little higher, but I didn't want to overcomplicate things.)
Dr. Bronners Baby Mild Liquid Castile Soap
I use this to make tooth soap and as a gentle baby wash. At Whole Foods, this item costs $15.99 – it's $19.49 on Amazon. At Thrive Market it's $11.45. That's a 25-41% savings.
Navitas Naturals Organic Shelled Hemp Seeds
At Whole Foods, this item costs $11.99 – it's $11.49 on Amazon. At Thrive Market, it's $8.45. That's a 30-40% savings.
Vitamin K2
I wrote about why I take Vitamin K2 here. At Whole Foods it costs $23.99 – it's $13.69 on Amazon. At Thrive Market, it's $11.95. That's a 13-50% savings. (And don't I feel silly, I've been paying 50% more at Whole Foods!)
Other Staples You'll Want To Check Out
Grass-fed gelatin (They have both Great Lakes and Vital Proteins, though Vital Proteins is out of stock right now)*
Bulletproof Coffee
Dr. Bronners Castile Soap (bars and liquid)
Olive Oil (the real stuff!)
Coconut EVERYTHING (oil, flour, flakes, sugar)
Organic Tomato Paste In Glass Jars
Organic, Fair Trade Chocolate Bars
Grass-Fed Beef Jerky
Nuts
Epic Bars
Cacao
African Black Soap (I sometimes use this as shampoo)
Argan Oil (amazing for skin and hair)
Rescue Remedy
Diva Cups
Not everything at Thrive Market is stuff I'd personally buy, but with hundreds of items to choose from I've found more than enough to make shopping with them a huge money saver for my family. If it's non-perishable and Whole Foods worthy, you're likely to find it there.
* Also, if you notice that something you want is out-of-stock, make sure to check back in a few days. They just moved into a larger warehouse so that they can meet all the orders that are coming in.
My Approach To Shopping At Thrive Market
One of the things I love about Thrive is how it helps me stay organized. Next to every product there's a little ♥ symbol that you can select to add items to your "favorites" list. Here I am adding castile soap to my list . . .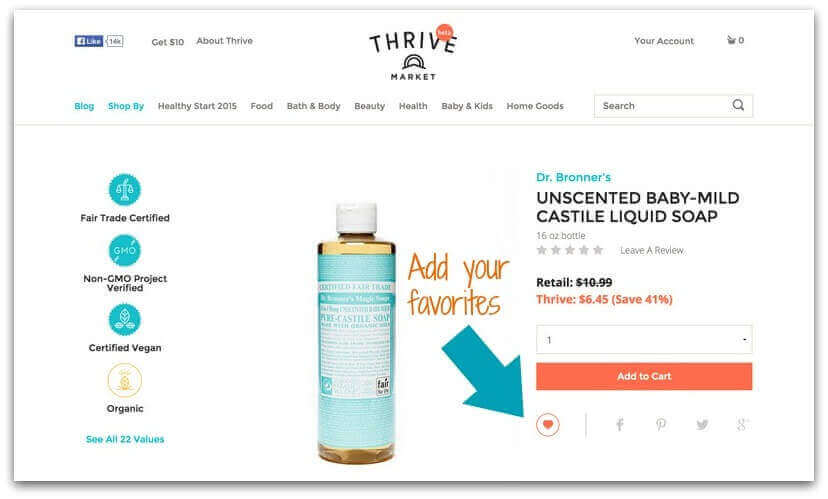 And here's my list . . .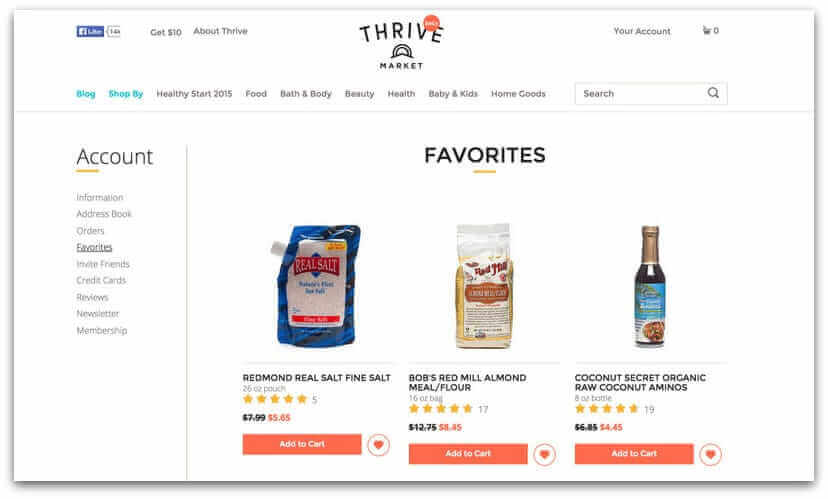 Using my favorites list, I can quickly double-check my pantry and replace staples. All I have to do is run through my list and add to my cart as needed. I order in bulk about once a month to keep things simple and make sure I get free shipping.
Thrive Gives: Making Real Food Possible For EVERY Family
And here's the part that I love the most: Thrive doesn't just want to make healthy living affordable for your family, they want to make it affordable for EVERY FAMILY.
When you purchase a membership, Thrive Market donates a free membership to a low-income American family. With this membership, items like chlorine-free diapers can be purchased for less than Huggies – that's a big deal!
I believe Thrive Market is a tipping point for us all right now. Farmers are showing an increasing interest in switching to non-GMO crops, and big companies like Hershey's are pledging to return to simple, easy-to-understand ingredients. (One press release also suggests that two of their most popular products may be going GMO-free, too.)
Why are they doing this? Because they're following our dollars. If we can help more people put their dollars toward real food, we can make even more of an impact. Imagine if struggling families could afford to eat well and use products that DON'T make life more difficult due to heavy toxic loads. It's a game changer. I really believe that.
In fact, I believe it so strongly that my family has invested a small amount in their company. It's another way we're choosing to vote with our dollars and increase access to healthy food.
Free 2 Month Membership + An Additional 25% Off Your Order
If you're ready to see how much you can save with Thrive, click here for a special 2-month membership plus an additional 25% off your first order. Yes, that's 20% off items that are already priced 25-50% below retail. Also, don't forget that if you spend more than $49 you'll get free shipping, too. Happy shopping!